Killer Hornets in China: 18 Dead in China's Shaanxi Province


Friday, 27 September 2013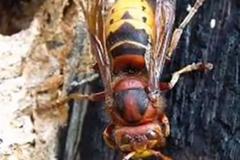 Killer hornets in China have killed 18 people.  At least 500 people have been stung by the killer hornets in Shaanxi Province, located in Eastern China, in recent months, officials said.

Angkang city health official Zhou Yuanhong told The Associated …

The post Killer Hornets in China: 18 Dead in China's Shaanxi Province appeared first on The Epoch Times.
Source: Newsy.com

Dozens of people have died and hundreds more have been seriously hurt this year after being stung by swarms of giant hornets in China.
You Might Like
Other recent news in Asia-Pacific
Twitter
Comments