Ormoc City, Tolosa, Dulag: Power Outages, Damage in Leyte After Typhoon Yolanda Hits


Friday, 8 November 2013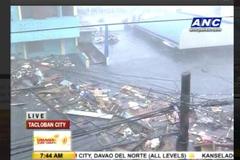 Dulag, Tolosa, and Ormoc City in Leyte Province have been hit by power outages after Typhoon Yolanda made landfall in the Philippines.

The typhoon hit Guiuan around 4:40 a.m. before crossing the Leyte Gulf and making a second landfall around …

The post Ormoc City, Tolosa, Dulag: Power Outages, Damage in Leyte After Typhoon Yolanda Hits appeared first on The Epoch Times.
Source: Newsy.com - on November 10, 2013

Officials estimate at least 10,000 people are dead after Typhoon Haiyan's destructive rampage through the Philippines.
You Might Like
Other recent news in Asia-Pacific
Twitter
Comments
comments powered by