Iloilo: Typhoon Haiyan Makes Landfall in Concepcion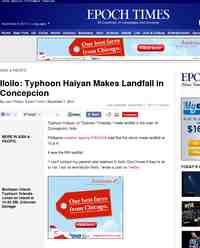 Comment

Friday, 8 November 2013

Typhoon Haiyan, or Typhoon "Yolanda," made landfall in the town of Concepcion, Iloilo.

Philippine weather agency PAGASA said that the storm made landfall at 12 p.m.

It was the fifth landfall.

"I can't contact my parents and relatives in Iloilo. …

The post Iloilo: Typhoon Haiyan Makes Landfall in Concepcion appeared first on The Epoch Times.
You Might Like
Other recent news in Asia-Pacific
Twitter
Comments
comments powered by