In China, One Truck Carries 18 Others [Video]


Thursday, 20 September 2012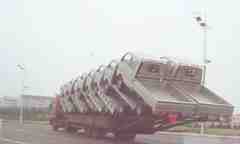 The question of transport efficiency is a delicate one, and transporting any sort of goods in an efficient manner poses problems for any logistics planner. However, in China, they just cram as many of whatever it is they are transporting onto a large truck with a good-sized flatbed, and off they go. Take this Chinese truck, which is transporting a total of 18 light trucks behind it. The light trucks are stacked one on top of the other, at...
Source: Agence France-Presse - on September 27, 2012

As the conflict in Syria carries on for more than a year and a half, scores of children are dying. Others who have witnessed the violence are at risk of severe trauma. In Aleppo, one displaced family with children aged three to twelve is struggling to cope with life in the war-torn country.Duration:...
Recent related news

Gunmen Kidnap 100 Nigerian Schoolgirls
Watch VideoAnother day in Nigeria, another horrifying attack on civilians. Just a day after a deadly bus station bombing killed more than 70 people and...
Newsy 2 days ago - World

Three teens dead and five injured after out of control speeding truck rolls into ditch with only one wearing a seat belt
Driver Robert 'Andrew' Russell, 18, Colbie Miller and Bailee Sims, both 19, were killedTwo teens were hospitalized with serious injuries, three others were...
CapitalBay 4 days ago - US
You Might Like
Other recent news in Automotive
Twitter
Comments
comments powered by