Hoarding, Lawsuits And Monster Losses: Here's What Happened The Last Time Cotton Prices Surged


Tuesday, 6 March 2012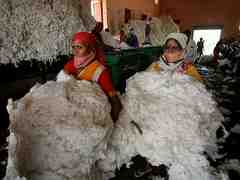 India announced an unexpected ban on cotton exports yesterday driving up prices.

The last time prices surged, falling demand wasn't the only consequence.

After supply disruptions started in 2010, cotton prices exploded from $0.70 to about $2.25 per pound last year.  And a bit of chaos ensued.

Here's some of what...
You Might Like
Other recent news in Business
| | |
| --- | --- |
| Biz Break: APPLE, Facebook and Zynga make big changes | Thursday's most followed in U.S. including Apple, FACEBOOK, GM, Pfizer, UPS, Aetna, 3M, Qualcomm, Zimmer, Caterpillar |
| WALL STREET drops after disappointing data; investors eye Facebook, Apple | Apple's iPad Sales Tank In The FIRST QUARTER As iPhone Sales Surge |
| Apple Announces Stunning 7-1 STOCK SPLIT And Another Big Increase In Its Buyback Program (AAPL) | Stocks Slide as UKRAINE Fears Overshadow Apple Earnings |
| Facebook profits triple as half of INTERNET world now uses website | Regulators pave way for Internet "fast lane" with NET NEUTRALITY rules |
| Ukrainian Troops Make Push Into East Ukraine City Held By Trained Pro-RUSSIA Gunman | Ethical Hackers 'To TARGET 20 UK Banks' |
Twitter
Comments
comments powered by