With Dividend, Tim Cook Thinks Differently About Apple


Monday, 19 March 2012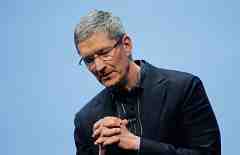 While playing the "Steve would never do that" game is seldom a great idea — it's akin to calling yourself a fortune teller or a mind reader — it is fairly safe to say, based on his prior statements and declarations, that Steve Jobs chose a successor who is not afraid to do things differently than he would at Apple (NSDQ: AAPL). After years as the company's COO, Cook has been Apple's chief executive officially since August, and in that short time he's done a number of things that represent a different direction for Apple as a company and its culture — instituting a generous charitable contribution matching program, engaging more with investors and publishing detailed audits of its international manufacturing plants, to name a few.
Source: Bloomberg - on March 27, 2012

March 26 (Bloomberg) -- Brian Blair, an analyst at Wedge Partners Corp., talks about Apple Inc. Chief Executive Officer Tim Cook's visit to China and the outlook for the company's strategy in world's most populous country. He speaks with Emily Chang on Bl
Recent related news

Apple updates environmental progress, focuses on climate change, finite resources
Just in time for Earth Day, Apple has updated its environmental site with the latest information about the many green initiatives it has put in place. Most...
Macworld 2 days ago - Computer Industry

Earnings preview: No news is good news?
Scientists might argue that the root cause of Earth's rotation is angular momentum, but come on: We all know it's money, plain and simple. We don't sit...
Macworld 2 days ago - Computer Industry

Here's How Many iPhones Wall Street Thinks Apple Sold Last Quarter (AAPL)
We're less than a week away from Apple's earnings report, which will be after the market closes on Wednesday, April 23. This is going to be a somewhat weird...
Business Insider 6 days ago - Business
You Might Like
Other recent news in Business
Twitter
Comments
comments powered by