STOCKS FALL, APPLE AND GOOGLE TANK AGAIN: Here's What You Need To Know (DIA, SPY, QQQ, MSFT, BKS, SUN, CHK, AAPL, GOOG)


Monday, 30 April 2012

A bumpy close to the month.

First the scoreboard:

Dow: 13,211.5, -16.8, -0.1%
S&P 500: 1,397.9, -5.4, -0.3%
NASDAQ: 3,046.3, -22.8, -0.7%

And now the top stories:
· Everyone woke up to the announcement that Microsoft would invest $300 million in a joint venture with Barnes & Noble. The plan is to spin off the Nook...
Recent related news

STOCKS CLIMB, APPLE SURGES: Here's What You Need To Know (DIA, SPY, SPX, QQQ, CAT, UPS)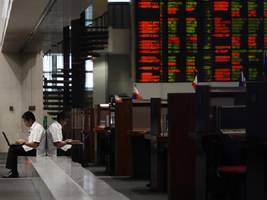 It was a surprisingly low-volatility day considering the amount of news that came out today. First, the scoreboard: · *Dow:* 16,501.1 (-0.5, -0.0%) ·...
Business Insider 12 hours ago - Business

What you need to know before the open
A higher open's expected for European markets this morning, following the strong results from Apple and Facebook and despite yesterday's negative...
City A.M. 1 day ago - Business
Also reported by •Business Insider

Hands On With Apple's CarPlay Integration With Volvo
Volvo and Apple offered the first public demonstration of CarPlay in the U.S. since its March debut at the Geneva International Motor Show, showing off how the...
Mashable 1 week ago - Internet
You Might Like
Other recent news in Business
Twitter
Comments
comments powered by