Everybody Is Wrong About Metta World Peace Trash-Talking The Guy Who He Concussed Last Month


Monday, 14 May 2012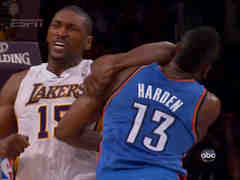 People are all up in a tizzy over Metta World Peace "dissing" James Harden after beating the Nuggets on Saturday night.

Asked whether he would shake Harden's hand, MWP said, "I don't shake substitutes' hands."

*A little background:* Harden is a substitute, and Metta concussed him with a vicious elbow last month.

So burn...
You Might Like
Other recent news in Business
Twitter
Comments
comments powered by