Economist Tyler Cowen Says To Avoid Restaurants Where The Patrons Are Smiling


Tuesday, 18 September 2012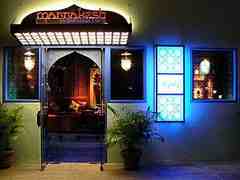 Economist Tyler Cohen wants consumers to think twice about walking into a restaurant where the patrons are smiling. 

It's not that they're serving bad food per se, it's just that the food won't be all that great, he told Business Insider. 

"A lot of restaurants are for socializing," Cohen said. They're "patronized by cool...
You Might Like
Other recent news in Business
| | |
| --- | --- |
| Biz Break: APPLE, Facebook and Zynga make big changes | Thursday's most followed in U.S. including Apple, FACEBOOK, GM, Pfizer, UPS, Aetna, 3M, Qualcomm, Zimmer, Caterpillar |
| WALL STREET drops after disappointing data; investors eye Facebook, Apple | Apple's iPad Sales Tank In The FIRST QUARTER As iPhone Sales Surge |
| Apple Announces Stunning 7-1 STOCK SPLIT And Another Big Increase In Its Buyback Program (AAPL) | Stocks Slide as UKRAINE Fears Overshadow Apple Earnings |
| Facebook profits triple as half of INTERNET world now uses website | Regulators pave way for Internet "fast lane" with NET NEUTRALITY rules |
| Ukrainian Troops Make Push Into East Ukraine City Held By Trained Pro-RUSSIA Gunman | Ethical Hackers 'To TARGET 20 UK Banks' |
Twitter
Comments
comments powered by