Colbert Gets 'Batsh*t Serious' About Hillary Clinton Conspiracy Theories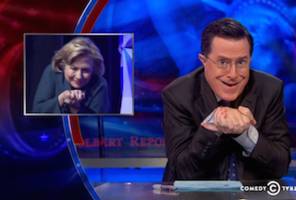 *Stephen Colbert* returned from a week-long vacation last night and the first thing he wanted to talk about were all those *Hillary Clinton* conspiracy theories...
Mediaite 2 days ago - Entertainment

Hillary Clinton Grandma Talk: Is There A Double Standard?
Watch VideoYou've probably heard by now Chelsea Clinton is pregnant with her first child. And odds are you've also probably heard some of...
Newsy 5 days ago - World
Also reported by •CapitalBay

Documents Offer Behind-The-Scenes Glimpse At Clinton White House
Glimpses into behind-the-scenes workings of President Bill Clinton's White House, as revealed in newly released documents: For Clinton's last State of the...
Huffington Post 5 days ago - Politics