RIM banks its future on newly-launched Blackberry 10


Wednesday, 30 January 2013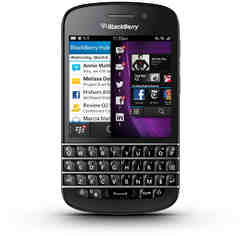 by Stephanie Boyd



RIM unveiled new versions of its Blackberry smartphone on Wednesday

NEW YORK -- Research in Motion (RIM) unveiled its newest Blackberry smartphone models on Wednesday, seen by many as a critical, long-overdue product update.

At the same time, to distance itself from the tarnished RIM brand, the Canadian company renamed itself to "Blackberry".

The two new phones run the new, completely redesigned Blackberry 10 operating system. One of the devices, named Z10, features a large 4.2-inch touch screen whilst the other - named Q10 - has a Querty physical keyboard along with a smaller 3.1-inch touch screen display.

"A good browser, apps, good camera, and fast networking in your smartphone is just expected today," Blackberry's CEO Thorsten Heins said during a launch event in New York City. "BlackBerry 10 goes beyond that with secure communications, and a real-time platform."

The Z10 will be the first new Blackberry to be available with U.K. buyers able to purchase it from Thursday. Customer in other countries will need to wait, with the Z10 being available in Canada from February 5 and in the U.S. sometime in March.
Tech Trends-Blackberry 10 01-29-13
Source: WDEF CBS Chattanooga, TN

down by more than eight percent on the nasdaq this monday. the company is set to launch its long delayed blackberry ten phones later this week-- widely seen as rim's last chance to stay in the game. maggie lake has this report "so am i seeing you later, at our other secret place? midnight-just...
Other recent news in Business
Twitter
•More original news reports from One News Page