Horsemeat scandal exposes complex food chain


Wednesday, 13 February 2013

Horsemeat scandal exposes complex food chain
Associated Press
Copyright 2013 Associated Press. All rights reserved. This material may not be published, broadcast, rewritten or redistributed.

Updated 10:43 am, Wednesday, February 13, 2013

Recent revelations that such products have reached dinner tables, including horsemeat falsely labeled as beef in Europe, have cast an unappetizing light on the global food industry. Europe's horsemeat scandal has exposed a food supply chain set up to fulfill that demand — one in which meat from a Romanian abattoir can end up in British lasagna by way of companies in Luxembourg and France. Since horse DNA was found in burgers from an Irish plant last month, the scandal has snaked its way across the continent, exposing a haphazard system with seemingly little rhyme or reason. According to the Office for National Statistics, British households spent on average just over 11 percent of their income on food in 2011, much less than a few decades ago. [...] the global economic crisis has hit incomes and, simultaneously, factors including bad weather, growing demand and speculation have caused prices for staples such as wheat, corn and soybeans to rise. [...] there's a rise in demand for low-cost processed foods, including cheap burgers, pasta meals and pies. Some in Britain have blamed the horsemeat fraud on an abrupt European ban on the use of "desinewed meat," the minced flesh that comes from rubbing animal carcasses that have already been stripped of prime cuts. The reality is that the food system is largely in the private sector and it is about running businesses, very successful businesses that make a lot of money. Like desinewed meat or horseflesh, it was never alleged that "pink slime" was unfit for human consumption, but the thought of fatty bits of beef being treated with a puff of ammonia to kill bacteria was something of a turnoff for Americans. [...] Michael Walker, a science and food law consultant to British food-testing and analysis company LGC, said it will be hard for people to break their dependence on a complex food supply chain, especially if they want year-round availability of a wide range of products.
Source: AFP Business news - on February 19, 2013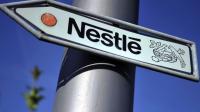 Swiss giant Nestle has become the latest food company hit by Europe's horsemeat scandal, withdrawing two types of pasta meal from supermarket shelves in Italy and Spain due to contamination. Duration: 01:05
You Might Like
Other recent news in Business
Twitter
Comments
comments powered by