*¤ YESTERDAY IN GOLD & SILVER*

The gold price was down about seven bucks by the time that Comex trading commenced in New York yesterday morning...and then at precisely 8:30 a.m. it blasted off for the $1,300 spot price mark, only to get hit within minutes by JPMorgan's high-frequency traders.

From that point, gold traded around the $1,295 spot mark until the London p.m. fix was in at 10:00 a.m. EDT...and then the gold price began to rally once again...making it briefly over $1,300 spot...$1,301.90 spot was the high tick...only to run into JPMorganet al the moment that Bernanke spoke.  By the time they were through with the gold price...shortly before noon in New York...it's low tick was recorded by Kitco at $1,269.70 spot.

The gold price didn't get far after that...and gold closed the New York trading session at $1,274.60 spot...down $16.90 on the day.  Net volume was very decent...around 177,000 contracts.

Silver's chart was almost the same as the gold chart, the only difference being that the low tick [$19.20 spot] came in electronic trading just minutes before 3:00 p.m. EDT in New York.  The high point of the day was recorded by Kitco at $20.32 spot...an intraday move of 88 cents, or a bit more than 4 percent.

Silver closed yesterday at $19.29 spot, down 73 cents from Monday's close.  Volume, net of July and August's numbers, was a very chunky 60,500 contracts.

Platinum got it the neck as well...but JPM's high-frequency traders didn't expend much energy in the palladium market.  Here are the charts...

On the day, gold closed down 1.31%...silver got creamed for 3.62%...Platinum was down 1.34%...and palladium was down a tiny 0.27%.

The *dollar index* closed on Tuesday afternoon in New York at 82.53...and then chopped and flopped around until it hit its low of 82.38 just a few minutes after 9:00 a.m. in New York.  From there it jumped to its high of the day...82.84...at 10:40 a.m. EDT.  The gain vanished two hours later...and the index didn't do much after that...closing trading on Wednesday at 82.69...up 16 basis points from Tuesday.

The gold stocks opened in positive territory...and that happy state of affairs lasted until JPM's high-frequency traders showed up in the Comex futures market.  The stocks hit their low at gold's low...minutes before noon in New York.  The subsequent recovery in the stocks was rather anemic...and the *HUI* rolled over once again, almost back to its low of earlier in the day...down 2.85% when all was said and done.  Considering the circumstance, it could have been worse.

Of course the silver shares weren't spared, either...and Nick Laird's *Intraday Silver Sentiment Index* closed down 2.56%.

(Click on image to enlarge)

The *CME's Daily Delivery Report* showed that zero gold and a very chunky 396 silver contracts [a hair under 2 million troy ounces] were posted for delivery within the Comex-approved depositories tomorrow.  It should come as no surprise that the only short/issuer of note was JPMorgan Chase out of its client account...and JPMorgan Chase was the only long/stopper of note as well...once again in its in-house [proprietary] trading account...accepting delivery of 351 contracts...and an additional 17 contracts for its client account.  I can't believe that JPM's clients are this stupid...and I'm wondering if all these deliveries out of their client account are actually for real clients...or maybe it's JPMorgan Chase itself masquerading as one.  They're breaking every rule in the book already, so why not this one as well?  The link to yesterday's *Issuers and Stoppers Report *is here...and it's worth a quick peek.

Just as a point of interest, despite the fact that that this report states it was 'run' at 8:45 p.m. EDT yesterday evening, it didn't show up on their website until well after midnight EDT this morning...and I've been checking all night long from the Mountain Standard Time zone.  This happens reasonably frequently with this report, especially when the numbers are a bit of surprise...like these ones. 

Once again there was a withdrawal from *GLD* yesterday.  This time an authorized participant took out 48,310 troy ounces.  And as of 9:42 p.m. EDT yesterday evening, there were no reported changes in *SLV*.

Over at the *U.S. Mint*, they made the expected correction I referred to in yesterday's column.  The gold eagle and 24K gold buffalo sales remained unchanged...but the correction showed that precisely zero silver eagles were sold by the mint on Tuesday.  I had reported 226,000 based on the number provided.  This guess...and that's what it was...turned into an error on my part...and my apologies are extended to all those willing to accept them.

I received a little tidbit of information from Casey Research's own Jeff Clark yesterday.  It was regarding *Q1 sales* from the* Royal Canadian Mint*.  "Sales of Gold Maple Leaf (GML) coins increased 96.4% to 269,000 troy ounces compared to 137,000 troy ounces in the same period in 2012. Sales of Silver Maple Leaf (SML) coins increased 65% to 6.6 million ounces during the quarter from 4.0 million ounces in the same period last year."  I'm impressed, but not surprised. 

There wasn't much activity in *silver* over at the Comex-approved depositories on Tuesday, as the didn't report receiving and...and only shipped 15,229 troy ounces out the door.  The link to what little activity there was, is here.

There was no in/out activity reported in *gold*.

I have a decent number of stories for you today...and I hope you can find the times to read the ones you find of interest.

 

*¤ CRITICAL READS*

-Bernanke tells Congress Fed flexible on bond buying-

Federal Reserve Chairman Ben Bernanke said on Wednesday the U.S. central bank still expects to start scaling back its massive bond purchase program later this year, but he left open the option of changing that plan if the economic outlook shifted.

While sticking closely to a time line to wind down the bond buying that he first outlined last month, Bernanke went out of his way to stress that nothing was set in stone.

"Our asset purchases depend on economic and financial developments, but they are by no means on a pre-set course," he told the House of Representatives Financial Services Committee.

Nothing has changed.  It's print, or suffer a deflationary collapse of Biblical proportions.  This Reuters piece, filed from Washington, was posted on their website late Wednesday afternoon...and I thank Roy Stephens for today's first story.

Read more...

-Editorial..."A Strange Glow"...The New York Sun-

So what does one figure is the explanation for the fact that when Chairman Bernanke testified before Congress today the value of the dollar began rising? The way the New York Times retailed the news is that the chairman "sharpened his insistence" that "the Fed remains committed to its economic stimulus campaign" and had not intended to signal in recent weeks that it was "lowering its sights." Yet the dollar finished the day with a higher value — more than a 1,277th of an ounce of gold — than when it started.

Our own theory is that it was the story on the Associated Press about how "a strange glow in space has provided fresh evidence that all the gold on Earth was forged from ancient collisions of dead stars." We're not making it up. That's the story that was being circulated as Mr. Bernanke was speaking. The AP was citing a report Wednesday by researchers of the observation by high-powered telescopes that detected a collision of neutron stars that European supercomputers predict could produce gold, Platinum, and other heavy metals.

This rather sardonic editorial was posted on The New York Sunwebsite yesterday...and I found it in a posting over at the gata.orgInternet site.

Read more...

-JP Morgan Is Reportedly Getting Ready To Settle For $1 Billion For Manipulating Energy Markets-

U.S. regulators and J.P. Morgan Chase are close to a monster settlement over allegations that the banking giant tampered with electricity markets in California and the Midwest, The Wall Street Journal reports.

Sources told the Journal the deal could come in close to a staggering $1 billion, the largest payout in the history of the Federal Energy Regulatory Commission (FERC), which overseas power trading markets.

JPM and FERC, the little regulator that could, are reportedly exchanging drafts of an agreement.

No one going to jail once again.  It should be obvious that JPMorgan is basically above the law.  One has to wonder what fine/licensing fee will be levied if/when they have to pay for rigging the precious metal markets for the last generation or so.

This businessinsider.com article was posted on their website later in the afternoon, just after the markets had closed for the day in New York...and my thanks go out to Scott Pluschau for sending it our way.  There's also a Zero Hedge story on this subject that Marshall Angeles sent me early yesterday evening. But a NY Timesstory from Laurent-Patrick Gally says that it's only going to be $500 million.  Either scenario is not a fine in my opinion...it's a licensing fee!

Read more...

-Farewell Housing Recovery: Housing Starts Miss Most Since January 2007, Permits Have Biggest Miss In History-

In all the noise surrounding Bernanke's rehash of statements made countless times before, today's only relevant data point - June housing starts and permits - was largely ignored. And one can see why: printing at 836K, the starts number was the lowest since August 2012, the second largest sequential drop (down from 928K in May) since 2011 and the biggest miss to expectations of 957K since January 2007!

And worse, permits which printed down from 985K to only 911K on expectations of a 1 million headline number, just posted their largest miss... *in history*.

As for the reason? Simple: as we have been warning, Wall Street's infatuation with housing as a flippable investment asset, praying that a greater fool has cheaper access to credit and will thus buy up all the distressed property, just evaporated manifesting itself in a 27% drop, or 86K units, in multifamily housing, which plunged back to September 2012 levels or 236,000.

This Zero Hedge story contains some *excellent charts*....and was sent to us courtesy of U.A.E. reader Laurent-Patrick Gally.

Read more...

-Following 45% Collapse, Mortgage Applications Are Back To 2011 Lows-

For the 9th week of the last 10 mortgage applications fell (led by refinancings - down 55% from their peak). Now down an incredible 45% from its May highs - the largest 10-week plunge since December 2010 - overall mortgage activity is languishing around the lowest levels of the post-recession 'recovery'. Year-over-year, applications have dropped 44% which is close to the worst on record as applications and mortgage rates track one another in their 'whocouldaknowed' perfectly correlated manner. It seems -for all those blinkered Pollyannas - given this morning starts and permits disaster, that home sales are the next shoe to drop and judging by the empirical relationship with apps and rates, the 'surprise' could be significant for many who remain hopeful.

This is another short story that was posted on the Zero Hedgewebsite yesterday...and* the charts alone are worth the trip*.  I thank Manitoba reader Ulrike Marx for her first offering in today's column.

Read more...

-End of Q.E. looms on signals from U.K. and U.S.-

In the UK, Bank of England rate-setters voted unanimously to leave QE unchanged at £375bn for the first time since October last year and, in the US, Federal Reserve chairman Ben Bernanke again hinted that money printing would be slowed later this year if the economy remains strong.

 

However, both central banks were clear that the end of QE would not mean the end of monetary stimulus. Minutes to the Bank's July rate-setting meeting showed that alternatives to QE are likely to be launched as early as August, prompting speculation that rates could be low until 2016.

At the Fed, Mr. Bernanke stressed that "a highly accommodative monetary policy will remain appropriate for the foreseeable future" even if QE is tapered off.

This story has posted on the telegraph.co.uk Internet site many hours before Bernanke spoke in the U.S. yesterday morning...and it's more than interesting to see how closely that the Fed and the BofE are working together...as their comments are virtually identical.  But if you're smart, dear reader, you won't believe a word they say...as the situation hasn't changed.  It's "print...or die".  But all the central banks of the world are really doing is forestalling the inevitable...and that's the total collapse of the world's current financial and monetary system.  I thank Ulrike Marx for her second offering in today's column.

Read more...

-Greece on the Brink: Athens May Need 10 Billion More-

The Greek recovery may be facing yet another hurdle. According to a report by German daily Süddeutsche Zeitung, the beleaguered country needs another massive influx of money if it is to avoid insolvency. The paper cites an unnamed official at the European Commission as saying that the "financial gap" could be as large as €10 billion.

The news comes at a difficult time for Greece and its relations with Germany. German Finance Minister Wolfgang Schäuble is set to visit Athens this Thursday for consultations with his Greek counterpart Yannis Stournaras and with Prime Minister Antonis Samaras. Schäuble is highly unpopular in Greece for his consistent insistence on austerity. And with German elections looming in September, it seems unlikely that additional aid money for Athens will be forthcoming anytime soon

That, though, could create further problems for Greece. The International Monetary Fund -- part of the troika of lenders keeping Athens afloat -- is only allowed to provide aid to countries whose finances are guaranteed 12 months into the future. Otherwise, it must withdraw funding. Should that happen, countries like Germany and Finland, who have made their own participation in the bailout contingent on IMF involvement, could withdraw as well. 

This news item was posted on the German website spiegel.de early yesterday afternoon Europe time...and I thank Roy Stephens for his second contribution to today's column.

Read more...

-'Sorry is not enough': Bolivia demands E.U. find culprits behind aerial hijack-

EU apologies for the aerial blockade that forced the Bolivian president's plane to land are "not enough," said Bolivia's foreign minister. The presidential plane was grounded amid suspicions that NSA leaker Edward Snowden had stowed away on board.

The Bolivian Foreign Minister, David Choquehuanca, confirmed on Tuesday that Bolivia had received official apologies from Italy and Portugal, adding to those of Spain and France.

"Not only Spain has sent a verbal apology, but also Portugal and Italy have sent messages accounting for their actions," said Choquehuanca at a press conference in the Bolivian capital of La Paz. However, Choquehuanca stressed that the apologies were not enough and the four countries "must identify those responsible and punish them in an exemplary fashion so that such an incident does not happen again."

Well, dear reader, maybe it's just me...but it's becoming more and more apparent that all kinds of international laws are being broken with abandon...or are being ignored completely.  This is particularly true of the actions of the American Empire which, no doubt, was 100 percent behind this Bolivian aircraft incident.  This Russia Today story was posted on their Internet site late yesterday morning Moscow time...and it's also courtesy of Roy Stephens.

Read more...

-Russia's Putin puts U.S. ties above Snowden-

President Vladimir Putin signaled clearly on Wednesday that he did not want a dispute over the fate of former U.S. spy agency contractor Edward Snowden to derail Russia's relations with the United States.

Russia has ruled out extraditing Snowden, wanted by Washington for leaking details of U.S. surveillance programs, and the U.S. citizen is currently stuck in the transit area of Moscow's Sheremetyevo airport.

Allowing him to stay in Russia even temporarily would upset Washington. Putin does not want to jeopardize a planned Moscow summit with President Barack Obama in September, their first in Russia since he started a new term last year, or cloud the atmosphere at a subsequent G20 summit in St Petersburg.

But a refusal would open Putin to criticism at home that he gave into Moscow's former Cold War enemy, even though he has refused to extradite Snowden to the United States to face espionage charges.

This is an *absolute must read* for all serious students of the New Great Game.  It was posted on the Reuters website late yesterday afternoon EDT...and I thank West Virginia reader Elliot Simon for finding it for us.

Read more...

-China defies IMF on mounting credit risk and need for urgent reform-

If you think China's Communist Party fully understands the mess it has created by ramping credit to 200pc of GDP and running the greatest investment bubble know to man, read its shockingly complacent response to warnings from the International Monetary Fund.

The IMF's Article IV report on China states - as clearly as the IMF dares - that excess credit has been pushed to the outer limits of sanity, and that there is a growing risk of an "adverse feedback loop" as the financial system and the economy take each other down in a mutually reinforcing spiral.

The deeper thrust of the IMF report is that the growth model of the past 30 years is exhausted. The low-hanging fruit has been picked. If the Communist Party fails to take radical action, it will soon be caught in the middle income trap.

This *Ambrose Evans-Pritchard* commentary was posted on The Telegraph's website yesterday evening BST...and is *definitely worth reading*.  I thank Ulrike Marx for sending it along.

Read more...

-Three King World News Blogs-

1. *John Mauldin*: "The Fed is Creating Enormous Financial Instability".  2. *Michael Pento*: "Despite Pullback, Gold Headed to New All-Time Highs".  3. *John Hathaway*: "Gold, Silver, the Fed and What to Expect Next".

Read more...

-Where are Silver American Eagles?-

As most of you know, it has been sometimes difficult for dealers to keep silver Eagles in stock for immediate delivery this year. The Mint has blamed outside suppliers of blanks for its inability to produce as many coins as the public wants to purchase. The coins are certainly not rare, with the U.S. Mint already having sold over 27.5 million coins year-to-date, on pace to set another annual sales record. Currently, delivery is now running about three weeks after customers make payme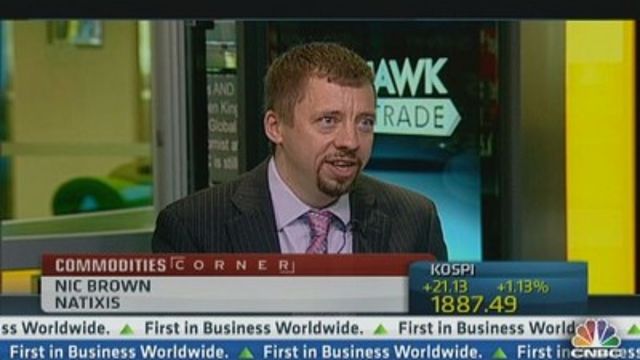 Nic Brown, head of commodities research at Natixis, discusses how gold can stabilize after losing "a third of the market demand" and says central banks' stimulus is "the answer to all questions".
Recent related news
Gold Drops On ECB Talk, US GDP

WASHINGTON (dpa-AFX) - Gold futures settled more than 1% lower on Thursday after European Central Bank President Mario Draghi signaled that the bank doesn't have...




FinanzNachrichten.de 14 hours ago - Markets

Also reported by •FXstreet.com


China bars banks from handling bitcoins

Bitcoins have suffered a new setback after China barred its banks from handling the virtual currency. The Chinese central bank said on Thursday that bitcoins did...




IndiaVision 23 hours ago - India

Also reported by •Reuters


ECB Rate Decision Won't Impact Gold, Markets Wait For U.S. Employment

(Kitco News) - More dovish comments from the European Central Bank would only have a moderate impact, if any, on gold prices, say analysts.




Forbes.com 2 days ago - Front Page





Insight – No quick exit from West's economic malaise

LONDON (Reuters) - Ending the Great Stagnation that is taxing Western policy makers may depend as much on the Chinese Communist Party as it does on the world's...




Firstpost 1 week ago - India




You Might Like
Other recent news in Business
Twitter
Comments