Who Went Home on Last Night's Dancing with the Stars?

Wednesday, 10 April 2013

DWTS results below - who went home on last night's Dancing with the Stars? This week on the show, celebrities and their dance partners did a variety of dances and during the practices for the dances, there was a dramatic moment where one of the celebs fainted. Reality TV star Lisa Vanderpump was struggling with an illness that was described as flu-like and had to seek treatment from a doctor to get back on her feet on Tuesday...
Source: E Now - on April 13, 2013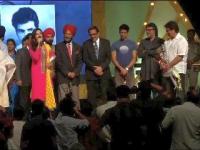 Mumbai, April 13 (ANI): The Punjab Cultural and Heritage Board celebrated the Baisakhi night by felicitating legends from various fields with Punjabi Icon Awards in Mumbai last night. Our very own Dharam Paji, Flying Sikh Milkha Singh, actress Neha Dhupia, shooter Gagan Narang, and many others were...
Recent related news
'Dancing With the Stars' recap: Who got pimped out on Party Anthems Night?

Get out those glow sticks and confetti guns, because "Dancing With the Stars" went full-on rager for its Party Anthems Night. And the glitterverse was even...




L.A. Times 21 hours ago - Entertainment

Also reported by •Digital Spy •Just Jared •E! Online •The National Ledger •Just Jared Jr


Amazing Race 2014 Results Recap from Last Night - Elimination, Who Went Home?

Who went home on The Amazing Race last night (April 20, 2014)? The recap of the elimination is below, six teams started the night and only the top five...




The National Ledger 2 days ago - Entertainment

Also reported by •Just Jared Jr


How Betty Who came from nowhere to climb the charts

Betty Who's song was used as the soundtrack to a video of a marriage proposal that went viral on YouTube. Now fame beckons What does it take to launch a...




guardian.co.uk 4 days ago - UK

Also reported by •Musicrooms.net


Nick Frost on Dancing, Tearing His Neck While Carrying Chris O'Dowd, and His 'No Jerks Allowed' Rule

Nick Frost: Big, lovable, impeccable at being a goofball. Oh, and he's a pretty good dancer, too. You may not think so at first glance, but Frost proves...




The Wrap 1 week ago - US




You Might Like
Other recent news in Celebrities
Twitter
Comments
comments powered by