Time Warner Cable Shareholder Sues To Block Comcast Merger


Monday, 17 February 2014


It's not just consumers and advocacy groups that are worried about the pending sale of Time Warner Cable to Comcast for $45 billion. On Friday, a TWC shareholder has filed a lawsuit to block the merger, claiming that executives prioritized their own bank accounts over investors' interests for a deal that will have a difficult time passing regulatory muster.

Bloomberg … [More]
Source: Wall Street Journal Live - on February 13, 2014
Barron's Brendan Conway joins the News Hub with details on Comcast and Time Warner Cable's $45 billion deal. Plus, what do the weekly jobless claims and January retail sales numbers mean for the economy? Photo: AP. Copyright...
Recent related news

Cable Giants Try to Block Cities' Internet Service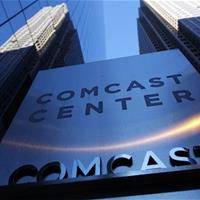 Municipalities, take note: A group representing cable giants like Time Warner and Comcast is pressing US officials to stop two cities from expanding high-speed...
Newser 54 minutes ago - Entertainment
Also reported by •Breitbart
You Might Like
Other recent news in Consumer
Twitter
Comments
Load Comments