Katy Perry 'introduces new man Robert Ackroyd to friends'


Friday, 27 April 2012

*Katy Perry has already introduced her new man, Florence + the Machine guitarist Robert Ackroyd, to some of her closest friends.*

The Firework singer was spotted kissing the musician at the Coachella Festival, as she continues to get over her divorce from Russell Brand.

Katy Perry is optimistic about her new relationship (PA)

It seems it was more than just a passing fancy, as Katy and Robert were seen having dinner at the Chateau Marmont hotel in Los Angeles with her friends Johnny Wujek, Shannon Woodward and Markus Molinari this week.

Katy apparently now has hopes her latest romance will turn out to be serious.

A source told the Sun: 'Rob had his arm around Katy while the group were chatting. He looked very at ease. It's early days but she's confident it may be going somewhere.'

The choice of venue might also be a sign things are going well between the couple.

'It was Brand's favourite place,' an insider told the Daily Star.

'She loves musicians with tattoos and an edge. Russell didn't fit the rock star bill.'

Robert is not Katy's first fling since she split from her husband late last year, as she also enjoyed a brief relationship with Chanel model Baptiste Giabiconi.
Recent related news

Katy Perry's 'new man' Diplo has history of arrests and anger management classes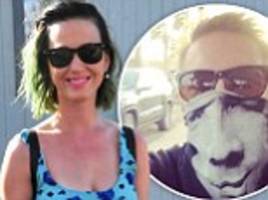 Married to bawdy Russell Brand and then in a long-term relationship with ladies man John Mayer, the 29-year-old obviously likes men with a bit of a past... and...
MailOnline 3 days ago - Entertainment
Also reported by •Radar Online •Lainey Gossip

Robert Pattinson and Katy Perry Would Make the Best Couple, Say Friends
After having a wonderful time together at the Coachella Festival this weekend, rumors about a possible affair between Robert Pattinson and Katy Perry began to...
Softpedia 5 days ago - Technology
You Might Like
Other recent news in Entertainment
Twitter
Comments
comments powered by