James Bond "Skyfall" trailer released [VIDEO]


Tuesday, 22 May 2012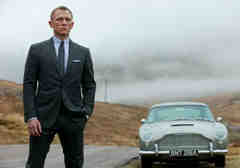 by Alice Monroe



The first teaser trailer of the forthcoming 23rd James Bond film entitled "Skyfall" has been released

Sony Pictures and MGM Entertainment have released a first teaser trailer for the long-delayed 23rd James Bond film "Skyfall".

Starring Daniel Craig as the legendary British superspy Agent 007, Javier Bardem as the main antagonist, and old-favorite Judi Dench as M.

French actress Bérénice Marlohe also stars as the franchise's latest Bond girl.

Skyfall won't hit the big screen until November 9.

Precious few details have been released about the plot. According to Sony, "Skyfall" involves a test of Bond's loyalty to M "as her past comes back to haunt her."

Bond's outfit, MI6, is attacked and "007 must track down and destroy the threat, no matter how personal the cost."

Watch the Skyfall trailer here (click the full-screen icon for a better view)

The teaser trailer for the latest James Bond film "Skyfall" reveals little detail about the plot
Source: Splash News TV - on May 21, 2012

Take a look at the first trailer and behind the scenes of the upcoming James Bond film, Skyfall.
Recent related news

'Jewish James Bond' Could Be The Solution To Hollywood's Violence Problem
Just in time for Passover, here's a look at what the next James Bond movie might look like -- if Mr. Bond were Jewish. Keeping in mind that Hollywood mogul...
Huffington Post 1 day ago - Entertainment

X-Men: Days of Future Past final trailer sees Wolverine assemble mutants for epic battle
The final trailer for X-Men: Days of Future Past has been released, starring Hugh Jackman, Jennifer Lawrence and James McAvoy.
Independent 1 day ago - Entertainment

Pierce Brosnan: 'I Hated Being Bond'
PIERCE Brosnan doesn't think he did a very good job as James Bond. Brosnan was cast as Bond in GoldenEye, released in 1995; he remained in the role for a total...
Showbiz Spy 3 days ago - Celebrities
Also reported by •The Wrap
You Might Like
Other recent news in Entertainment
Twitter
Comments
comments powered by
•More original news reports from One News Page