Justin Timberlake Plays Jimmy Fallon for SNL's 'Family Feud' - WATCH NOW!

Sunday, 22 December 2013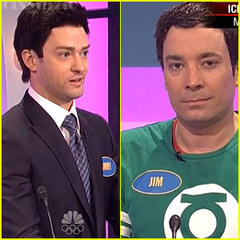 Justin Timberlake does his best impression of his buddy and that night's Saturday Night Live host, Jimmy Fallon, during a Celebrity Family Feud sketch. The 32-year-old singer was on the NBC team playing Jimmy alongside other "celebs" like Ellen DeGeneres, Ice T, and SNL's Brooks Whelan playing himself. Jimmy played The Big Bang Theory's Jim [...]
Recent related news

Miranda Kerr Plays Flip Cup for the First Time Ever Against Jimmy Fallon: Watch the Video
US Weekly 4 days ago - Celebrities
Also reported by •E! Online

Michael Strahan Hits Justin Bieber: 'He's Been Arrested More Than Anybody in the NFL' (Video)
Last week, during a game of trivia with Kelly Ripa, Jimmy Fallon was unable to identify the player that held the NFL record for most sacks in a single season....
The Wrap 1 week ago - US
You Might Like
Other recent news in Entertainment
Twitter
Comments
Load Comments