Jill Duggar Is Engaged To Derick Dillard

Wednesday, 9 April 2014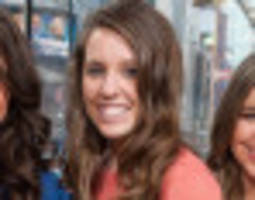 The Duggars are adding one more to their ever-expanding family.

Jill Duggar, the 22-year-old daughter of Jim Bob and Michelle, is engaged to marry Derick Dillard, People magazine reported.

"I am so happy," she told the magazine. "Our story is so very unique. The first time we talked, he was in Japan, we met in Nepal, he spent time in India and Israel and then came back to Arkansas where he met my family. We have a very international story even though we live so close."

Jill and Derick had previously been in a courtship while living 8,000 miles away from each other, the New York Daily News reported. They spent "hours texting, calling and talking on Skype." When they finally met, they "knew within days that we wanted to spend the rest of our lives together."

The latest season of "19 Kids & Counting" focuses on courtship in the Duggar family. The parents explained to Today.com earlier this month that courtship is about "waiting for the one God has for you and praying through the whole process." There are chaperoned dates; Jim Bob and Michelle are included on all texts and intimacy (even kissing) is saved for marriage.

"The main difference between courting and dating is setting boundaries for yourself so that you don't cross over those," Jill has said on the TLC show.
Recent related news

'19 Kids and Counting's' Jill Duggar Dillard Looks Ready to Pop
Jill Dillard announced in August she and husband Derick Dillard were expecting their first child, affectionately hastagged "babydilly."
ABCNews.com 1 day ago - Entertainment
Also reported by •Christian Post •CapitalBay

Jill Duggar Shows Off Baby Bump In New Photo
The "19 Kids and Counting" star, who is expecting her first child with Derick Dillard, is five months pregnant and is due in March.
IBTimes 1 day ago - US
Also reported by •E! Online

Jill and Jessa Duggar Go on Double Date With Their Husbands
Though the two are now married, Jill and Jessa Duggar are as close as ever as the sisters went on a double date with their husbands. Jill took to Instagram to...
Christian Post 1 week ago - Entertainment
You Might Like
Other recent news in Entertainment
| | |
| --- | --- |
| MADONNA Releases Six Songs After 'Rebel Heart' Leak | KRISTEN BELL & Dax Shepard Welcome Baby Girl |
| Leaked Sony Email Name IDRIS ELBA As James Bond Candidate | Kate Winslet in Talks to Play Female Lead in STEVE JOBS Biopic |
| VIDEO: CRAIG FERGUSON Bids a Quirky Farewell to The Late Late Show | "Veronika Decides to Die" - cast: SARAH Michelle Gellar, Jonathan Tucker, Erika Christensen, Florencia Lozano, Melissa Leo, David Thewlis, Victor Slezak, Erica Gimpel |
| BILL COSBY Addresses 'Black Media' Comments as New Accuser Comes Forward | New Video Shows RAY RICE, Wife Kissing After Elevator Fight |
| 'THANKS FOR letting me wear your jacket' | "Untitled Steve Jobs Biopic" - cast: Michael Fassbender, Seth Rogen, KATE WINSLET, Jeff Daniels |
Twitter
Comments