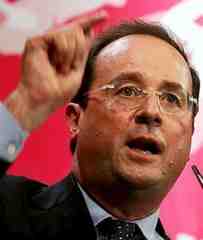 by Alice Monroe



Socialist President-elect Francois Hollande, the first left-wing leader in France in 20 years, promises to buck austerity

PARIS, France -- Socialist Francois Hollande will be sworn in as France's new president on May 15 after winning Sunday's presidential election with 51.6% of the vote.

Center-right incumbent Nicolas Sarkozy is the first French president in 31 years not to win a second term in office.

Conceding defeat, Sarkozy wished his opponent good luck and asked his supporters to respect the incoming president Hollande.

"Dear compatriots. The French people have made their choice," Nicolas Sarkozy said to a huge crowd of booing supporters.

Sarkozy is the latest victim of a wave of voter anger over spending cuts in Europe that has ousted governments and leaders in the past couple of years.

Hollande opposes many of the tough economic austerity measures in France.

He has promised to move quickly to implement a traditional socialist tax-and-spend program with higher taxes on the rich to help finance increased state spending.

Hollande said he would push ahead with his pledge to refocus EU fiscal efforts from austerity to "growth".

"Europe is watching us, austerity can no longer be the only option," he said.
Source: Associated Press - on May 7, 2012

Socialist Francois Hollande defeated conservative incumbent Nicolas Sarkozy on Sunday to become France's next president. Hollande's election heralds a major shift in French policy. (May 6)
You Might Like
Other recent news in Europe
Twitter
Comments
comments powered by
•More original news reports from One News Page