Steve Jobs' high-tech yacht seized in Amsterdam over payment dispute with designer


Saturday, 22 December 2012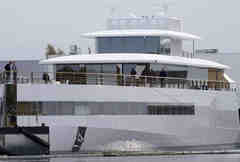 by Mike Anderson



The superyacht commissioned by late Apple co-founder Steve Jobs has been impounded by Dutch authorities over a $4 million payment dispute with the designer

AMSTERDAM, The Netherlands -- Venus, a minimalist high-tech yacht commissioned by Steve Jobs before his death, is reportedly held in a Dutch harbor amid a payment dispute with the vessel's French designer Philippe Starck.

The 260-ft yacht, made of lightweight aluminium, reportedly was built at a cost of around $138 million and was launched at Aalsmeer in The Netherlands in October - a year after Jobs died of pancreatic cancer and therefore never saw his yacht go to sea.

It has now emerged that Starck claims he is still owed around $4 million of a $12 million project fee - and the basis for the fee calculation is under dispute as the total manufacturing cost for the yacht was lower than originally planned and Starck's fee set at a percentage of it.

Amid this payment dispute, Starck has called in the debt collectors and had the yacht impounded.

Jeroen Ranzijn, spokesman for the Port of Amsterdam told BBC News: "The boat is brand new but there is a 3m euro claim on it. The parties will have to fight it out."

He added that the yacht would not be allowed to leave the port until the dispute is resolved.

The boat features a minimalistic design with floor-to-ceiling glass walls and seven 21" iMacs in the wheelhouse.
Source: IBTimes.com - on December 27, 2012

Tim Cook has finally made it to the top at Apple Inc, but in his first full year as CEO his pay package shrank about 99 percent. Cook, the successor to the late Steve Jobs, was awarded total compensation of $4.17 million (USD) in 2012, down from $378 million in 2011, Apple said in a federal filing on...
You Might Like
Other recent news in Europe
Twitter
Comments
comments powered by
•More original news reports from One News Page