Flying over planet Earth: Stunning time-lapse video as seen from the International Space Station


Wednesday, 5 October 2011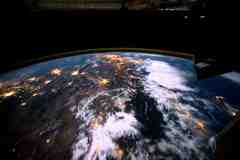 Astronauts aboard the International Space Station have taken a series of photographs flying over our planet at night. Here is the breath-taking time-lapse video

A camera on board the ISS recorded a series of images as the space station moved across the night time half of the globe.

The time-lapse video of the recording shows breathtaking views of large stretches of deep blue sea, land lit up by the lights of big cities and small towns, and storm clouds flashing with lightning.

The movie begins over the Pacific Ocean and continues over North and South America before entering daylight near Antarctica.


Credit: NASA, Acknowledgement: Infinity Imagined

Visible cities, countries and landmarks include (in order) Vancouver Island, Victoria, Vancouver, Seattle, Portland, San Francisco, Los Angeles. Phoenix. Multiple cities in Texas, New Mexico and Mexico. Mexico City, the Gulf of Mexico, the Yucatan Peninsula, El Salvador, Lightning in the Pacific Ocean, Guatemala, Panama, Columbia, Ecuador, Peru, Chile, Lake Titicaca, and the Amazon. Also visible is the earths ionosphere (thin yellow line), a satellite (55sec) and the stars of our galaxy.
Recent related news

WOW! Stunning photograph captures International Space Station...
STARGAZERS, astronomers and anyone fascinated by the sky at night will have been keeping an eye out for the International Space Station in recent days. The third...
Scunthorpe Telegraph 20 hours ago - UK
Also reported by •Essex Chronicle

QUIZ: Can you identify these cities?
Here's a collection of some stunning images of the Earth seen from the International Space Station.
Rediff.com 6 days ago - India
You Might Like
Other recent news in Front Page
Twitter
Comments
comments powered by
•More original news reports from One News Page