Robbers net $50 million in diamond heist


Tuesday, 19 February 2013

by Stephanie Boyd



Eight masked gunmen disguised as police have stolen $50 million worth of diamonds in a meticulously planned Brussels Airport heist

BRUSSELS, Belgium -- Belgian police were looking for eight men who pulled off one of the biggest diamond raids in history at Brussels Airport on Monday evening.

Disguised as police officers and equipped with machine guns, the robbers took just three minutes to hold up a Swiss passenger jet just before it was cleared for take-off.

They forced open the cargo doors of the aircraft and took out about 120 packages containing rough as well as cut diamonds, loaded the loot into a van and fled the scene.

"This was not a random robbery. It was well-prepared - these were professionals," said Anja Bijnens, a spokesman for the Brussels prosecutor.

The diamonds were thought to have been in transit from Antwerp, the world capital of diamond-cutting, were gems worth $200 million are traded every day.

The raid was over within minutes as the robbers made off into the night.
Source: Afp News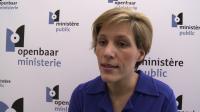 Heavily armed robbers disguised as cops made off with $50 million (37 million euros) worth of diamonds in a spectacular heist on the tarmac at Brussels airport, prosecutors and diamond dealers said Tuesday. Duration: 00:56
You Might Like
Other recent news in Front Page
Twitter
Comments
•More original news reports from One News Page