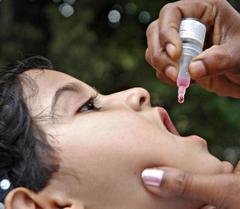 by

Mike Anderson

India is set to be officially declared free of polio as no cases of the deadly disease have been reported for three years
NEW DELHI, India -- The Indian government announced Monday that the country has been polio-free for three years, putting it on course to being formally declared free of the crippling virus by the World Health Organization (WHO).
Nata Menabde, India's WHO representative, said: "We give huge credit to the government... It makes us extremely proud and highly responsible for having helped the government to reach this incredible achievement."
India, which accounted for nearly half of the world's polio cases in 2009, had been considered one of the toughest places in the world to eradicate the highly infectious disease. An extensive and sustained immunization program involving millions of volunteers and medical workers administer vaccinations to over 170 million children each year has led to the eradication of polio.
"This monumental milestone was possible due to unwavering political will at the highest level, commitment of adequate financial resources, technological innovation ... and the tireless efforts of millions of workers including more than 23 lakh (2.3 million) vaccinators," Health Minister Ghulam Nabi Azad told reporters.
Polio is a vaccine-preventable disease that usually infects children under age 5 after they drink contaminated water. The disease attacks the central nervous system causing permanent paralysis, muscular atrophy, deformation or, in some cases, death. It has been eradicated in most countries however the disease remains officially endemic in Pakistan, Afghanistan and Nigeria.