Baltic Dry Index Crashes 18% In 2 Days
Monday, 13 January 2014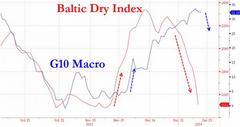 We noted Friday that the much-heralded Baltic Dry Index has seen the *worst start to the year in over 30 years*. Today it got worse. At 1,395, the the Baltic Dry index, which reflects the daily charter rate for vessels carrying cargoes such as iron ore, coal and grain*,* is now *down 18% in the last 2 days alone (biggest drop in 6 years), back at 4-month lows*. The shipping index has utterly collapsed over 40% in the last 2 weeks. We are sure this is just a storm in a teacup and that all the hopes and prayers of a global manufacturing renaissance will come true. Cue, "this is not a demand issue, it's an over-capacity issue" excuses in 3...2...1... now where would the container ships get their idea to increase capacity? (hint: central planner-based mal-investment)

 

 

Of course, we are sure the 'lead' that the Baltic Dry seems to have over global macro will be quickly ignored...

 

On potential driver of the price plunge is Colombia's tougher stance on coal exports (via The FT):



The Baltic Dry index is followed closely as a barometer of global trade but Friday's plunge came *in the wake of new environmental rules on ship loading in Colombia, the world's fourth-largest supplier of seaborne thermal coal.*

 

On Wednesday, US miner Drummond halted loading of coal at its port in the country after it failed to comply with the rules. Colombian National Resources, a miner owner by Goldman Sachs, is also reported to have *stopped exports because it cannot comply with the new regulations.*

 

Colombia, which exports almost 70 per cent of its coal to Europe, has been working on tightening its environmental regulations and last year fined Drummond, the country's second-biggest coal miner, for dumping material into the sea while rescuing a sinking barge.

 

The *new rules stipulate that coal exporters load ships using conveyor belts instead of by barge and crane.* Drummond will not be ready to comply with the new rules until March.



 

However, over-stocking remains the major issue (which hints at Q3/4's surprise inventory builds and macro surprise) is anything but sustainable:



"*The physical steel product prices, along with the rebar futures, in China have been falling continuously since mid of December*, thanks to the sluggish downstream demand in winter period and the high financing cost," Mr Guo said.

 

"More importantly, our figures show that the current iron ore stocks at major mills have been available for 21.5 days of consumption, which is the highest level in two years. *All of these result in no incentive from the mills to maintain their purchasing appetite as in the fourth quarter of last year*," he added.



Chart: Bloomberg
Recent related news

The Baltic Dry Index Has Never Crashed This Fast Post-Thanksgiving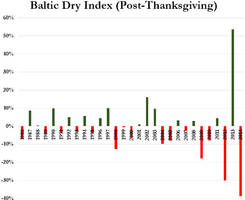 We are sure it's nothing - since stock markets in China and The US are soaring - but deep, deep down in the heart of the real economies, there is a problem. *The...
Zero Hedge 1 day ago - Markets

Just another downside indicator…
…and a volatile one at that: the Baltic Dry Index It was down 1.3 per cent on Thursday at 827. *It's now fallen 20 days in a row.* Continue reading:...
FT.com 3 days ago - Business
You Might Like
Other recent news in Markets
Twitter
Comments