Pope Francis Is Not Liberal Or Conservative: He is Prophetic
(RNS) It's one thing to say kind words about gay people and atheists while admonishing those who would bury them in stones. It's one thing to walk humbly and...
Huffington Post 2 days ago - Politics
Also reported by •IndiaVision

Kanye West's Week Includes Accusations Of Anti-Semitism, Weak Attendance At Kansas City Gig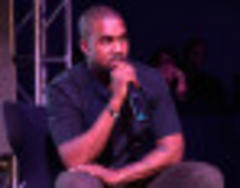 Kanye West is not having the greatest week. First, the 36-year-old rapper was accused of anti-Semitism for remarks he made during a radio interview with New...
PopEater 1 week ago - Entertainment
Also reported by •Pitchfork

Stephen Colbert: Pope Francis Is Batman — Check Out the Nipples on His Suit (Video)
Stephen Colbert, our nation's self-proclaimed "most famous Catholic," knew there was something funny about the newish holy leader — but what he didn't...
The Wrap 1 week ago - US