'12 Years a Slave' Had a Dance Number, Cate Blanchett Won Oscar for 'A Fish Called DeShonda,' According to Einsteins on Kimmel (Video)
Best Picture of the Year, "12 Years of Slave," had a "real good" dance number at the end, and Best Actress winner Cate Blanchett totally deserved the...
The Wrap 5 days ago - US

Oscars: Watch Idina Menzel Perform Showstopping Performance of 'Let It Go' (Video)
Despite having her name botched by John Travolta in the introduction, Idina Menzel gave a mesmerizing performance of her anthemic song from the Disney...
The Wrap 5 days ago - US

Oscars Live Stream 2014 - Watch Red Carpet Video Here!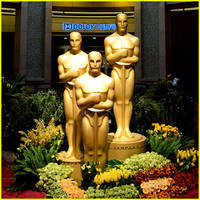 The red carpet is about to begin and it's just about time for the 2014 Academy Awards held at the Dolby Theatre on Sunday (March 2) in Hollywood. JustJared.com...
Just Jared 5 days ago - Entertainment