Oldest known Mayan calendar discovered, contradicts 2012 "Apocalypse" myth


Friday, 11 May 2012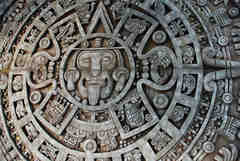 by Alice Monroe



The oldest-known version of the Mayan calendar has been discovered by archaeologists in the last known largely untouched Mayan megacity, Xultún. It contradicts the myth of Mayans predicting an end of the world in 2012.

The ancient Mayans were masters of understanding and predicting astronomical events and creating accurate long-term calendars.

Archaeologists in Guatemala have discovered the ruins of a 1,200-year-old Mayan workshop for calendar scribes and priests in what used to be the Mayan mega city of Xultún.

In contrast to previously discovered Mayan calendars, which were interpreted by prophets of doom as predicting an apocalyptic end of the world in December 2012, the newly-discovered calendar records detailed astronomical data spanning 7,000 years - way beyond the prophecized end of the world on December 21, 2012.

"The Mayan calendar is going to keep going for billions, trillions, octillions of years into the future," said archaeologist David Stuart of the University of Texas, who worked to decipher the glyphs. "Numbers we can't even wrap our heads around."

Archaeologist Dr William Saturno of Boston University, who is leading the research project, pointed out that our mindset of interpreting the Mayan calendar as predicting an end was simply wrong.

"We keep looking for endings. The Maya were looking for a guarantee that nothing would change. It's an entirely different mindset," Saturno explained.
Source: IBTimes.com - on May 11, 2012

U.S. archaeologists (May 10) announced on Thursday the discovery of an ancient mural that they say sheds new light on the famed Mayan calendar -the same calendar believed by some to predict the world's end on or about December 22, 2012.
You Might Like
Other recent news in Science
Twitter
Comments
comments powered by
•More original news reports from One News Page