Annular solar eclipse stuns millions


Monday, 21 May 2012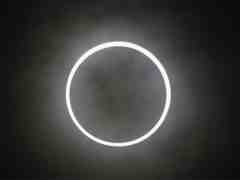 by Stephanie Boyd



A rare solar eclipse was witnessed by millions of people across the Pacific from Asia to the western U.S.

Millions of people looking up to the sky in Southeast Asia and the western United States were treated to a rare spectacle as the moon passed across the face of sun - leaving behind a "ring of fire".

To observers along a narrow track starting in southern China, traversing the Pacific and ending in northern California and southern Oregon in the U.S., the sun was mostly obscured by the moon and appeared as a thin ring of light. More than 80% of the sun was blocked by our lunar companion during the so-called "annular eclipse".

It was the first time in 18 years that North America was treated to an annular eclipse, and the next one won't occur until 2023.

The astronomical event was witnessed by millions of people in Japan, China and the U.S., and millions more who watched the eclipse online.

Eclipse-watching events were held at Japanese schools and museums, and in California and Oregon thousands attended parties to watch the celestial spectacle.

The next solar eclipse, although not an annular one, will take place on November 13, and is expected to be visible over northern Australia, according to NASA.
You Might Like
Other recent news in Science
Twitter
Comments
comments powered by
•More original news reports from One News Page