SpaceX Dragon capsule to arrive at International Space Station Friday [LIVE VIDEO]


Friday, 25 May 2012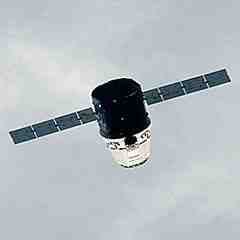 by Mike Anderson



The SpaceX supply capsule named 'Dragon' was set to become the first private spacecraft to rendezvous with the International Space Station on Friday.

CAPE CANAVERAL, FL -- NASA has given clearance for the SpaceX Dragon cargo capsule to join up with the International Space Station (ISS) on Friday.

SpaceX is the first commercial company to launch a vessel to the space station, and is hoping to win a lucrative ISS re-supply contract worth $1.6 billion for 12 Dragon missions in the future. Winning the contract is contingent on the technical success of Friday's rendezvous.

Following a successful launch on a Falcon 9 rocket on Tuesday, the Dragon capsule has since gradually raised its orbit closer to the 300-mile altitude of the ISS.

On Thursday, it passed within 1.5 miles of the $100 billion orbital outpost.

According to NASA, ISS was set to capture the Dragon capsule with its 500kg of supplies at around 1530h GMT (11.30am ET, 4.30pm BST, 5.30pm CEST)

LIVE video coverage of SpaceX's Dragon arrival at the ISS

Video stream credit: NASA TV / USTREAM

The California-based SpaceX is run by Paypal's billionaire creator, Elon Musk.
Recent related news

SpaceX Dragon capsule makes Easter delivery to space station
The Dragon cargo ship, operated by the private spaceflight company SpaceX, arrived at the International Space Station on Sunday morning
Christian Science Monitor 3 days ago - Front Page
Also reported by •Zee News •CBS News •Raw Story •IndiaTimes •Science Daily •VOA News •Space Daily •guardian.co.uk

Food supplies arrive at International Space Station 250 miles above Earth's surface
The unmanned Dragon capsule successfully made contact with the International Space Station today and used its 57.7ft long arm to deliver supplies.
MailOnline 3 days ago - Science
Also reported by •PR Newswire •Zee News •CBS News •Raw Story •IndiaTimes •Science Daily •guardian.co.uk
You Might Like
Other recent news in Science
Twitter
Comments
comments powered by
•More original news reports from One News Page