*Google Glass* A model (i.e., non-winner) using Google Glass. Google
The winners of the Google Glass Explorer contest have been announced, and the lucky few get to do a beta run of Google's new gadget. Data shows what they had in common.

Last week, Google announced the winners of the Google Glass Explorer competition. Like a miniature college-application essay, Twitter users sent out 140-character plans for what they'd do with Google's new spectacles, along with the tag #ifihadglass. So what made these folks so special?

Stanford's Andrej Karpathy crunched some of the numbers to see what it took to win the competition.

-BE FAMOUS-

There were several celebrities that made it onto the list--from Neil Patrick Harris to Soulja Boy--but although that certainly seemed to improve your odds, you didn't necessarily have to be in the limelight. The Twitter follower distribution breaks down like this: 26 percent of people had less than 100 followers, 61 percent of people had less than 1,000 followers, and 7 percent of people had more than 10,000, according to the data.

So nearly followerless Twitter users still had a shot, presumably while pitching their "#ifihadglass I'd film my birthday so at least someone would come" idea.

-USE THESE WORDS IN YOUR APPLICATION-

This is a word cloud showing the most-used words in winning #ifihadglass tweets. Very interesting! "Art"? Not very helpful. "World"? Very helpful.

-USE THESE WORDS IN YOUR TWITTER PROFILE-

This word cloud shows the frequency of words appearing in the winners' Twitter profiles. Some very hip-sounding careers, here. Ideal candidate description: *I am a social media/technology designer/nerd enthusiastic about world blogger strategy news.*

But it's too late now to use these strategies, unfortunately. Maybe you can still get in to the Google Nose beta.

[Stanford]
Recent related news

New poll shows Google's Glass, robots and self-driving cars are tough sells
According to a recent survey, Americans are excited for futuristic technology that you might see in a sci-fi novel, but are anxious about how we'll get...
Boy Genius Report 3 days ago - Technology

Google Glass: How to get your hands on a pair in the UK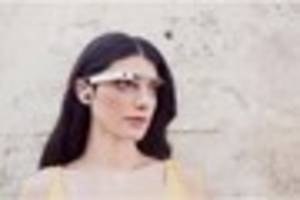 Google Glass have gone on sale for the first time to the general public in America. The company is offering a test version of the eyewear for £900. At the...
Exeter Express and Echo 6 days ago - UK

Don't forget: The one-day Google Glass public sale starts soon!
Your taxes are (hopefully) done, you've had your first cup of coffee... now what? Google wants to jump-start your Tuesday by offering even non-Explorers its...
engadget 6 days ago - Technology
You Might Like
Other recent news in Science
Twitter
Comments
comments powered by