Oscar "Blade Runner" Pistorius charged with murdering girlfriend


Thursday, 14 February 2013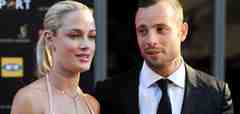 by Alice Monroe



South African Paralympic gold medallist Oscar Pistorius has been charged with fatally shooting his girlfriend Reeva Steenkamp

JOHANNESBURG, South Africa -- Oscar Pistorius, the South African Paralympic athlete, has been charged with murder after his model girlfriend Reeva Steenkamp was fatally shot several times at his home north-east of Johannesburg.

Pistorius, known as the "Blade Runner" for his racing prosthetics, was taken into police custody on Thursday morning, and reportedly told authorities that he thought his girlfriend was a burglar when the incident happened in the early hours of Thursday morning.

His girlfriend Reeva Steenkamp, a model and recent contestant on South African TV show "Tropika Island of Treasure 5", may have been in the act of surprising Pistorius for Valentine's Day, some local media commentators speculated.

She was shot several times in the head and arm. A 9mm pistol was found on the scene, and police confirmed there were no other suspects.

Pistorius won gold in the 4x100 meter relay and 400 meter individual events at the 2012 Paralympic Games in London.
Source: Newsy.com - on February 14, 2013

'Blade Runner' Oscar Pistorius is charged with murder in the shooting death of his girlfriend, model Reeva Steenkamp.
Recent related news
Oscar Pistorius trial to take a lengthy break

PRETORIA, South Africa - The judge in the trial of Oscar Pistorius, the disabled track star accused of murdering his girlfriend, said Wednesday that proceedings...




The Age 1 day ago - Business

Also reported by •DNA •NDTV.com •Digital Journal •Huffington Post •guardian.co.uk


Prosecutor wraps up grueling cross-examination of Oscar Pistorius

JOHANNESBURG, South Africa – Hours before South African Olympian Oscar Pistorius fatally shot his girlfriend, Reeva Steenkamp, she wrote him a  Valentine's...




L.A. Times 2 days ago - World

Also reported by •NDTV.com •VOA News


Pistorius, Steenkamp 'argued' on night she died

Oscar Pistorius argued with his girlfriend shortly before shooting her dead, the prosecution lawyer alleged on Monday as his gruelling cross-examination of the...




IndiaTimes 4 days ago - World

Also reported by •NDTV.com •Digital Journal •guardian.co.uk


Sobbing Pistorius forces another delay in murder trial

Ex-Olympian charged with murdering girlfriend in his home breaks down again on 4th day of cross-examination




CBS News 4 days ago - World

Also reported by •Digital Journal •VOA News

You Might Like
Other recent news in Sports
Twitter
Comments
comments powered by
•More original news reports from One News Page