Manuel Pellegrini sorry for Champions League gaffe
Manchester City manager Manuel Pellegrini apologised on Friday for the miscalculation that may have cost his side top spot in their Champions League group.
Zee News 3 hours ago - Sports
Also reported by •Bangkok Post •Miami Herald •PRWeb •Huffington Post •CapitalBay •The Sport Review •France 24 •guardian.co.uk

GRAHAM POLL'S WEEKEND REF WATCH: Decisions in the Champions League show that English football still has the best referees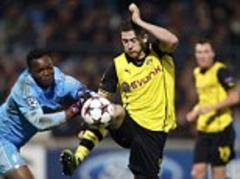 The Champions League was fascinating this week - three games confirmed to me that England still has the best group of referees. There may be better individuals,...
MailOnline 6 hours ago - Sports

Champions League 2013-14: The best and worst bits from the group stage
From Zlatan's tache-bash to racism in Russia, the Champions League group stage has provided some memorable highs and some depressing lows *Best goal: Aaron...
guardian.co.uk 1 day ago - Sports
Also reported by •France 24 •Epoch Times