NBA Rumors, News 2014: Celtics, Cavs, Heat, Rockets, Bucks, Hawks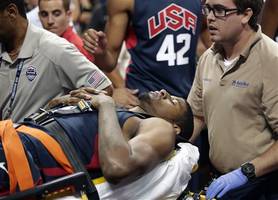 The NBA rumors and news keep coming this offseason, including about Rajon Rondo and the recent Kevin Love-Andrew Wiggins trade. Check out the latest buzz...
Epoch Times 2 days ago - US
Also reported by •Christian Post

Miami Heat NBA Trade Rumors: Cavaliers Eyeing Ray Allen, Toney Douglas Leaving for China
All things fall apart, even for the A-Team Miami Heat. First was the disheartening departure of LeBron James to return to his home state's team Cleveland...
Christian Post 1 week ago - Religion

Houston Rockets NBA Trade Rumors: Francisco Garcia to Resign With Clutch City's NBA Team
Though not officially announced by the Houston Rockets, it seems like Francisco Garcia is now close to re-signing his contract with Houston Rockets, according to...
Christian Post 1 week ago - Religion