Web Buzz Points To A Packers Win


Sunday, 6 February 2011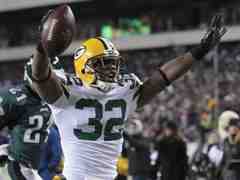 Internet chatter has mentioned the Green Bay Packers slightly more than the Pittsburgh Steelers during the last week, and if the last two years are any guide, that means the Packers will win today's Super Bowl game.

But the Steelers could always pull an upset like the New York Giants did in 2008.

Social analytics company...
You Might Like
Other recent news in Technology
| | |
| --- | --- |
| Tech Five: APPLE, Facebook, Zynga shares soar | Apple IPHONE sales in India grew 55% year-on-year |
| Apple beats everyone's expectations in Q2, attributes to high iPhone SALES | Apple's CHINA success sets stage for iPhone 6, new products |
| Apple announces 7-1 STOCK SPLIT, dividend increase, and expanded captial return program | Google, Microsoft and FACEBOOK launch $3.6 million project to stop the next Heartbleed |
| Office for iPad better late than never, Apple CEO Tim Cook tells MICROSOFT | The FCC's New NET NEUTRALITY Rules Will Brutalize The Internet |
| FCC Tells INTERNET To Chill, Denies That It Will Kill Net Neutrality | Rich web companies to get a 'fast lane' on THE INTERNET, courtesy of the FCC |
Twitter
Comments
comments powered by