Apple makes Oregon data center official


Thursday, 23 February 2012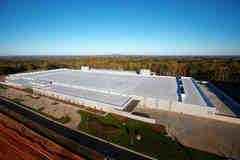 Apple is bolstering its data center capacity in the US, as a representative from the company confirmed this week that a new facility was in the works for Prineville, Oregon. The new data center in the Beaver State was rumored last December, just a few months after Apple officially opened its long-rumored North Carolina operations. The company didn't give any details, but the deed for the property viewed by Oregon TV station KTVZ reveals that the facility will sit on a 160-acre parcel of land that was purchased for $5.6 million. Another point of interest: the deed was signed on February 15th, the same day the Oregon Senate passed legislation to give a tax break to data centers in the area. It was rumored that Apple was evaluating whether...
Recent related news

Apple buys hydroelectric green energy project near Oregon data center
Apple is expanding its use of clean energy to power its iCloud data centers, with the company's Prineville, Ore., facility now flanked by a small hydroelectric...
AppleInsider 1 week ago - Computer Industry
Also reported by •9to5Mac
You Might Like
Other recent news in Technology
Twitter
Comments
comments powered by