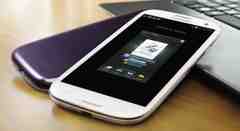 by Mike Anderson



Samsung has launched the latest version of its flagship Galaxy S smartphone in 28 countries

Samsung, the world's largest smartphone maker, has launched its highly anticipated third-generation Galaxy S smartphone in 28 European and Middle Eastern countries.

The Galaxy S III smartphone was originally introduced at a launch event on May 3, and is widely expected to become the commercially most successful Android smartphone in history.

The most striking features of the new Samsung Galaxy S3 include its super-sized 4.8-inch high resolution display, its sleek design and 8.6mm thin body. It also features a "natural language user interface" and can track users' eye movements to ensure the screen does not dim while they are looking at it.

Industry analysts are describing the Galaxy S3 as a challenger to Apple's upcoming iPhone 5 - putting Samsung one step ahead of the California-based rival.

"The Galaxy S3 is a real challenger to the upcoming iPhone," Francisco Jeronimo, an IDC analyst based in London, was quoted saying by Reuters. "This is likely be one of the most sold smartphones this year, though the real test will come when the next iPhone is launched."

Samsung sold 44.5 million smartphones in January-March — equal to nearly 21,000 every hour.
Source: IBTimes.com - on May 29, 2012

In Frankfurt, mostly men in their twenties attended a lottery, organized by phone company Deutsche Telekom, which gave away several Samsung Galaxy S3 phones for free.
Recent related news

Samsung Galaxy Beam 2 Silently Goes Official with 4.66-Inch Display, Mini-Projector
The sequel to the not so popular Samsung Galaxy Beam was spotted more than a month ago in China at TENAA, featuring China Mobile's branding on the battery...
Softpedia 9 hours ago - Technology
Also reported by •CIO •BGR India

Galaxy S5 price already slashed in world's third largest smartphone market
Samsung's brand new flagship Galaxy S5 smartphone is barely a week old but it has already seen a substantial price cut in the third largest smartphone market...
Boy Genius Report 3 days ago - Technology

LG's so-called 'Galaxy S5 killer' could launch in July
Releasing a new flagship smartphone has become tricky because you don't want to release it too closely to new Samsung flagships that launch in the spring or...
Boy Genius Report 1 week ago - Technology
You Might Like
Other recent news in Technology
Twitter
Comments
comments powered by
•More original news reports from One News Page