LIVE: iPhone 5 Lines At Apple Stores Around The World! (AAPL)


Friday, 21 September 2012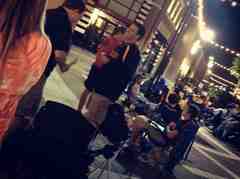 The iPhone 5 goes on sale today and there are, of course, lines at Apple Stores around the world.

People take these lines as a sign of demand for the phone, and they obviously are. But they are also a sign that people just like to gather for an occaision.

The truth is, no one needs to wait in line to get an iPhone 5. You...
Source: IBTimes.com - on September 20, 2012

Small lines are forming outside Apple stores in the U.S. ahead of the release of the hotly anticipated iPhone 5. The iPhone 5 has won rave reviews from tech bloggers and other reviewers who were given the faster, slimmer and lighter smartphone ahead of its release to customers later this week, with...
Recent related news
8 GB iPhone 5c now available in the Netherlands Apple Online Store

After a brief period of downtime, the Apple Store around the world has now gone back up. Aside from a bit of Mothers Day promotional advertising, there is no...




9to5Mac 2 hours ago - Technology





iPhone 6 leaked case again points at a new design

As we inch closer to September when Apple is expected to unveil the iPhone 6, the rumors mills are getting busier spewing out iPhone-related information. The...




BGR India 3 hours ago - Technology

Also reported by •Boy Genius Report •MacRumours.com


Download SlingPlayer for iPhone with AirPlay Support

SlingPlayer for iPhone, the app that lets you take control of your TV and DVR right from your iPhone's display, has received an update that lets it stream...




Softpedia 12 hours ago - Technology

Also reported by •BGR India


iWatch to Launch in Sizes for Men and Women in Late 2014 – Report

A report from Korea indicates that Apple is on track to roll out its revolutionary iWatch later this year in two distinct configurations, in order to cater to...




Softpedia 1 day ago - Technology

Also reported by •Deccan Herald

You Might Like
Other recent news in Technology
| | |
| --- | --- |
| Apple, Google, MICROSOFT and others sign anti-phone-theft pledge | Cloud Investing Beyond AMAZON, Google and Microsoft |
| Daily Roundup: Amazon's first phone, PROJECT ARA developer conference and more! | Study: U.S. teens love APPLE, Instagram, Beats by Dre and Netflix |
| Buy GOOGLE GLASS today if you want, but don't be surprised when Google contact lenses pop up | Why Amazon is right to steer clear of BITCOIN |
| Microsoft Announces New Tools Bringing The Cloud To THE INTERNET Of Things, Uniting Hadoop And SQL | MICHIGAN's Nik Stauskas and Glenn Robinson III declare: 'We're ready for NBA' |
| Samsung's Android Wear WATCH and Google-less phone coming this year | At $1,500, TOSHIBA's 4K laptop is affordable, and launches next week |
Twitter
Comments
comments powered by