Double Robotics raises $250,000 to keep up with demand for its iPad-powered telepresence robot


Friday, 21 September 2012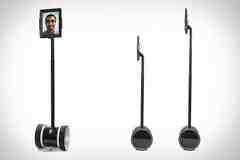 Talking with tech investors recently, The Verge has heard the same thing again and again: hardware startups are hot right now. You only need to look at the most recent graduating class from the prestigious Y-Combinator program, which featured a record six companies focused on hardware instead of apps or the web.

One of those graduates was Double Robotics, maker of a iPad-powered telepresence device. The company announced today it has raised $250,000 from Grishin Robotics, an investment firm from created by Dmiitry Grishin, the Russian billionaire who founded his nation's biggest email company, Mail.ru. "Grishin was a perfect investor because they have the same mission as us," said Double Robotics founder David Cann. "We believe that...
Source: IBTimes.com - on September 26, 2012

People have been talking for some time about how robotics might replace the human workforce and eventually find their way into the homes. However, not many people actually own a robot at home or a workplace. But that may finally start to change as personal robots are getting cheaper and finding new...
You Might Like
Other recent news in Technology
Twitter
Comments
comments powered by