US Air Force readies X37-B space plane for a third classified flight


Monday, 10 December 2012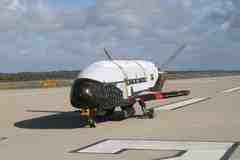 The mysterious X37-B plane is headed back to space tomorrow for a third mission, though we're still no closer to knowing exactly what the United States Air Force is using the aircraft for. Yet again the cargo being carried inside the unmanned Orbital Test Vehicle during OTV-3 is heavily classified. The Air Force is touting one aspect of the mission however, and that's reusability. The X37-B plane being readied for OTV-3 was the same one used in the inaugural 224-day OTV-1 flight in 2010. Officials say repurposing the aircraft in this manner demonstrates "a reliable, reusable, unmanned space test platform for the United States Air Force."

OTV-2 returned in June after an extensive 469-day mission — 200 days longer than originally...
Source: Newsy.com - on December 11, 2012

The U.S. Air Force's X-37B Space Plane is set to launch on it's third voyage. The details of the mission have been kept a secret.
You Might Like
Other recent news in Technology
Twitter
Comments
comments powered by