Sonic weapon deployed for London Olympics


Saturday, 12 May 2012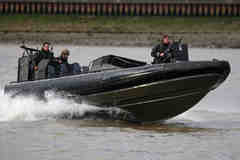 by Alice Monroe



The British Ministry of Defence has confirmed it plans to deploy a 150-decible sonic weapon in London during the Olympic Games

LONDON, United Kingdom -- A sonic weapon capable of producing a focused beam of pain-inducing sound is to be deployed on London's Thames river during the Olympic Games, the British Ministry of Defence has revealed.

The U.S.-built Long-Range Acoustic Device (LRAD) will primarily be used in "loud hailer mode" to warn suspicious vessels on the Thames.

The device, which produces noise louder than the takeoff of military jets will be used by the armed forces as part of a large contingent of weaponry deployed to provide security during the Olympics.

A Ministry of Defence spokesman said: "As part of the military contribution to the police led security effort to ensure a safe and secure games, a broad range of assets and equipment is being used by our armed forces".

"This includes the LRAD (Long Range Acoustic Device) which will be deployed during the Olympic Games primarily to be used in the loud hailer mode as part of the measures to achieve a maritime stop on the Thames," the spokesman revealed.

The sonic weapon is the latest addition to the security arsenal to be deployed during London 2012, which will see the UK's biggest mobilisation of military and security forces since World War II.

During the Games an aircraft carrier will dock on the Thames, and surface-to-air missile systems will scan the skies. The Royal Air Force will station Typhoon Eurofighters at RAF Northolt, offering additional protection of London's airspace. More than a thousand armed U.S. diplomatic and FBI agents and 55 dog teams will patrol an Olympic zone partitioned off from the wider city by an 11-mile, $125 million, 5,000-volt electric fence.

Do you feel the security effort for the London Olympics is adequate or going too far? Share your comments below:
Source: IBTimes.com - on May 17, 2012

The flame for the London Olympics, which starts on July 27 after a 70-day torch relay around Britain, was formally handed over at a ceremony in a damp Athens on Thursday (May 17).
You Might Like
Other recent news in UK
Twitter
Comments
comments powered by
•More original news reports from One News Page