King Richard III found after 500 years - beneath a car park


Monday, 4 February 2013

by Stephanie Boyd



Scientific tests have confirmed that the human remains found underneath a Leicester car park are in fact those of England's King Richard III

LEICESTER, United Kingdom -- The death of England's last king to die in battle, King Richard III, has been shrouded in mystery ever since the monarch died more than 500 years ago in 1485. Until now.

On Monday, archaeologists of the University of Leicester announced they had determined "beyond reasonable doubt" that a skeleton with a cleaved skull and a curved spine discovered beneath a Leicester car park is in fact that of King Richard III.

"It's the academic conclusion of the University of Leicester that beyond reasonable doubt the individual exhumed at Grey Friars in September 2012 is indeed Richard III, the last Plantagenet king of England," lead archeologist Richard Buckley confirmed.

An examination of the skull and body revealed that, after suffering at least two fatal head wounds, the monarch was brutally hacked, presumably by the victors, after falling and dying on the battlefield in 1485.

Following his death, the crown passed to Henry VII and the Tudor monarchs, who, with the help of William Shakespeare and other playwrights, painted Richard as a brutal, hunchbacked villain who stopped at nothing in his quest for power.

The discovery of his remains disproves accounts of Richard as having a twisted arm, although he did have scoliosis, a twisted spine.

Sir Peter Soulsby, mayor of Leicester, said moves were under way for the remains to be interred in the city cathedral next year.

"The body will be re-interred in the cathedral, in whose shadow his remains have lain for 500 years." Canon Chancellor David Mantieth, of Leicester Cathedral, said the announcement was a "momentous day".

He said the king's body once re-interred would "rest in peace and rise in glory".
King Richard III's face revealed after skeleton found
Source: news across the world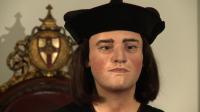 The face of England's king Richard III is revealed for the first time in more than 500 years following a reconstruction of his skeleton found underneath a car park. Duration: 01:11
Recent related news
Buried in haste

This is Leicestershire -- Academics have revealed further details of Richard III's hasty and unceremonious burial. Archaeologists from the University of...




This is 6 hours ago - UK

Also reported by •Independent


An undignified end: Richard III was buried in 'hastily dug and untidy grave'

Researchers have revealed the remains of King Richard III, which were discovered under a city car park, were found in a hastily dug, untidy grave.




Independent 6 hours ago - Science

Also reported by •Science Daily •Belfast Telegraph •This is


King Richard III facial model goes on display in Leicester

Reconstruction based on the skull of the king, exhumed from under a car park, will then go on a nationwide tour A facial reconstruction of King Richard III is...




guardian.co.uk 1 week ago - UK

Also reported by •This is


Richard settles into his new – medieval – home

This is Leicestershire -- A model of Richard III's head has been installed at an exhibition at the beginning of its national tour. The bust was created by...




This is 1 week ago - UK




Other recent news in UK
Twitter

Be the first to tweet the news!
•More original news reports from One News Page