'Farm Kings' Reality Show Features 9 Brothers, 1 Sister, 1 Mom on Butler County Farm


Tuesday, 21 August 2012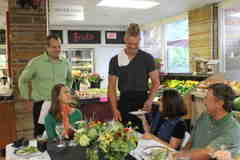 Cranberry, PA --

The table filled with a King's ransom did not hold coins or jewels.

Instead, delicious fresh produce, perfectly spiced free-range chickens and a smooth-tasting apple pie with a light flaky crust was the treasure served by the King family of Butler County.

They invited local media to join them Monday...
You Might Like
Other recent news in US
Twitter
Comments
comments powered by