Orionids Meteor Shower 2012: Where to Watch in Santa Cruz


Monday, 15 October 2012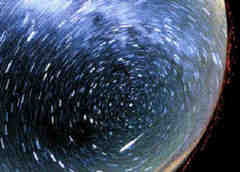 Scotts Valley, CA --

The offspring of Halley's Comet are about to put on quite a show in the skies very soon.

Earth will pass through a stream of debris from Halley's Comet beginning Oct. 15, which will give us the benefit of the annual Orionids meteor shower—though you probably won't see much until a bit later.

The...
You Might Like
Other recent news in US
| | |
| --- | --- |
| Pope Francis prays for peace in Ukraine, Syria at Vatican EASTER Mass | Easter Sunday gun battle at eastern UKRAINE check-point leaves 3 pro-Russians and 2 Ukrainians dead in bloodiest battle so far |
| Easter Monday 2014: Banks Open, Closed; Wells Fargo, Citibank, Bank of AMERICA, Chase, TD Bank, Mail, Post Office, DMV, Schools, Stock Market? | Car crashes through FLORIDA church during Easter service with 200 parishoners, trapping some |
| 'Heaven Is for Real' Rides Faith-Based Wave to Big Easter Score at BOX OFFICE | International SPACE STATION takes special Easter cargo from SpaceX ship |
| Celebrating Easter _ and creativity _ in NEW YORK | MISS AMERICA thinks school should reconsider discipline of would-be prom date |
| 'It's miraculous': Stowaway, 16, walks away unharmed despite flying more than five hours from California to Hawaii in plane WHEEL WELL after running away from home | The BOSTON MARATHON: Step by step, the race lives on |
Twitter
Comments
comments powered by