Public Memorial Service for Jenni Rivera Scheduled Wednesday in Universal City


Monday, 17 December 2012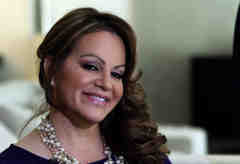 Woodland Hills, CA --

A public memorial service for the late Jenni Rivera will be held Wednesday at Gibson Amphitheatre in Universal City, according to the singer's family.

Rivera's brother, the Rev. Pedro Rivera Jr., will lead the 10 a.m. ceremony, which is expected to last until noon.

Rivera, a 43-year-old Long Beach...
You Might Like
Other recent news in US
Twitter
Comments
comments powered by