Man, 27, critically injured after hit-and-run in Willenhall
A man was fighting for life today after being struck and dragged along by a car in a hit-and-run after drinking in Wolverhampton city centre.
Express and Star 21 hours ago - UK
Also reported by •Freep

Pedestrian Struck In Md. Crash Near Disabled Car
Get Breaking News First Receive News, Politics, and Entertainment Headlines Each Morning. Sign Up LAUREL, Md. (AP) — Howard County police say a woman is...
CapitalBay 3 days ago - US

Witnesses: Cop Car That Hit Pedestrian Was NOT Using Sirens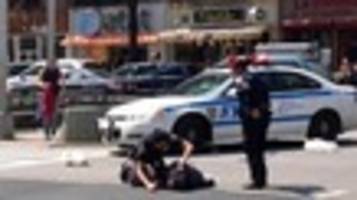 The NYPD claims that the police cruiser that struck and seriously injured a 69-year-old homeless man on the Upper West Side yesterday was traveling with the...
Gothamist 1 week ago - US