Desert Storm commander General Norman Schwarzkopf dies aged 78


Friday, 28 December 2012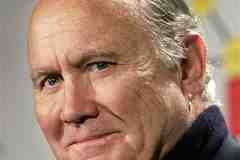 by Alice Monroe



Norman Schwarzkopf, the retired U.S. general who drove Saddam Hussein's forces out of Kuwait in 1991 as commander of coalition forces, has died aged 78

WASHINGTON -- Retired General H. Norman Schwarzkopf, who commanded the U.S.-led international coalition which liberated Kuwait from Iraqi dictator Saddam Hussein in 1991, has died.

Gen Schwarzkopf, known popularly as "Stormin Norman" died at his home in Tampa, Florida, on Thursday of complications from pneumonia. He was 78 years old.

His military success made him one of America's great heroes.

Former president George H. W. Bush issued a statement:

"Barbara and I mourn the loss of a true American patriot and one of the great military leaders of his generation," the first Gulf War president said.

"General Norm Schwarzkopf, to me, epitomized the 'duty, service, country' creed that has defended our freedom and seen this great nation through our most trying international crises," his statement read.

"More than that, he was a good and decent man -- and a dear friend. Barbara and I send our condolences to his wife Brenda and his wonderful family," Bush concluded.

U.S. President Barack Obama said: "We've lost an American original."

U.S. Defense Secretary Leon Panetta offered the following statement:

"The men and women of the Department of Defense join me in mourning the loss of Gen. Norman Schwarzkopf, whose 35 years of service in uniform left an indelible imprint on the United States military and on the country. The son of a decorated Army officer, Gen. Schwarzkopf followed his father's legacy of service by enrolling in West Point in the 1950s. His bravery during two tours in Vietnam earned him three Silver Stars, and set him on the path lead our troops into battle in Grenada, and then to take charge of the overall allied effort in the first Gulf War as commander of United States Central Command. Gen. Schwarzkopf's skilled leadership of that campaign liberated the Kuwaiti people and produced a decisive victory for the allied coalition. In the aftermath of that war, Gen. Schwarzkopf was justly recognized as a brilliant strategist and inspiring leader. Today, we recall that enduring legacy and remember him as one of the great military giants of the 20th century. My thoughts and prayers are with the Schwarzkopf family in this time of sadness and grief."

After the Gulf war, Schwarzkopf turned down the position of army chief of staff and retired from active service in August 1991. He was successfully treated for prostate cancer in 1993.

Schwarzkopf and his wife, Brenda, had three children: Cynthia, Jessica and Christian.
Source: Associated Press - on December 28, 2012
Retired US General Norman Schwarzkopf died on Thursday. He was 78. In 1991, Schwarzkopf led a coalition of about 30 countries that drove Iraq out of Kuwait during Operation Desert Storm. (Dec. 28)
You Might Like
Other recent news in US
Twitter
Comments
comments powered by
•More original news reports from One News Page