Uncovered California
I've shared my gripes about Covered California before, such as here and here. I've got more to add. I'm self-employed, so I get insurance through the...
Zero Hedge 2 days ago - Markets
Also reported by •bizjournals

Obamacare Spawning 'Medical Homelessness' Crisis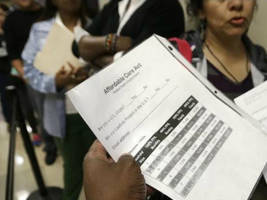 California Obamacare enrollees are struggling to find doctors who accept their newly purchased health insurance plans. UCSF Dr. Kevin Grumbach calls the...
Breitbart 3 days ago - US

RISARC CEO Richard Stephenson and Blue Shield of California Host Seminar for Healthcare Executives to Discuss Changes to Patient Care Requirements and Revenue Cycle.
The seminar, for senior healthcare executives, detailed the latest impact Covered California, Hospital Presumptive Eligibility and the Affordable Care Act is...
PRWeb 5 days ago - Press Releases