Missing Richland Co. Man Located in Awendaw


Tuesday, 22 January 2013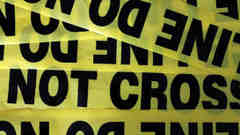 Patch Mount Pleasant, SC --

Charleston County deputies have located a Richland County man reported missing on Monday.

Around 4:15 a.m. Tuesday, deputies spotted an abandoned 2013 Cadillac on U.S. 17 north in Awendaw, about 20 miles from downtown Charleston, according to a sheriff's statement. William Dent, 74, was walking...
You Might Like
Other recent news in US
Twitter
Comments
comments powered by