Fire Destroys Motor Home Parked in Ross Township


Monday, 28 January 2013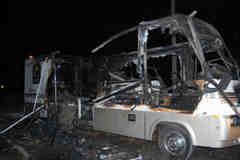 Patch North Hills, PA --

The Ross Township and Allegheny County Fire Marshal are investigating the cause of a fire which destroyed a Winnebago Motor home parked in a lot in the 400 block of Jacks Run Road Sunday evening.

No one was hurt.

Firefighters were called to the scene around 5 p.m., but when they arrived the motor...
You Might Like
Other recent news in US
| | |
| --- | --- |
| Pope Francis prays for peace in Ukraine, Syria at Vatican EASTER Mass | Easter Sunday gun battle at eastern UKRAINE check-point leaves 3 pro-Russians and 2 Ukrainians dead in bloodiest battle so far |
| Easter Monday 2014: Banks Open, Closed; Wells Fargo, Citibank, Bank of AMERICA, Chase, TD Bank, Mail, Post Office, DMV, Schools, Stock Market? | Happy Easter: 420 Holiday Tries to go Mainstream in COLORADO |
| Car plows through wall of packed FLORIDA church before Easter concert, injuring about 20 | 'Heaven Is for Real' Rides Faith-Based Wave to Big Easter Score at BOX OFFICE |
| Celebrating Easter _ and creativity _ in NEW YORK | MISS AMERICA thinks school should reconsider discipline of would-be prom date |
| The BOSTON MARATHON: Step by step, the race lives on | In Colorado, a POT HOLIDAY goes mainstream |
Twitter
Comments
comments powered by